MOTOR AND SAIL DESIGNS "Ocean Series Yachts" BY NAVAL ARCHITECT PATRICK BRAY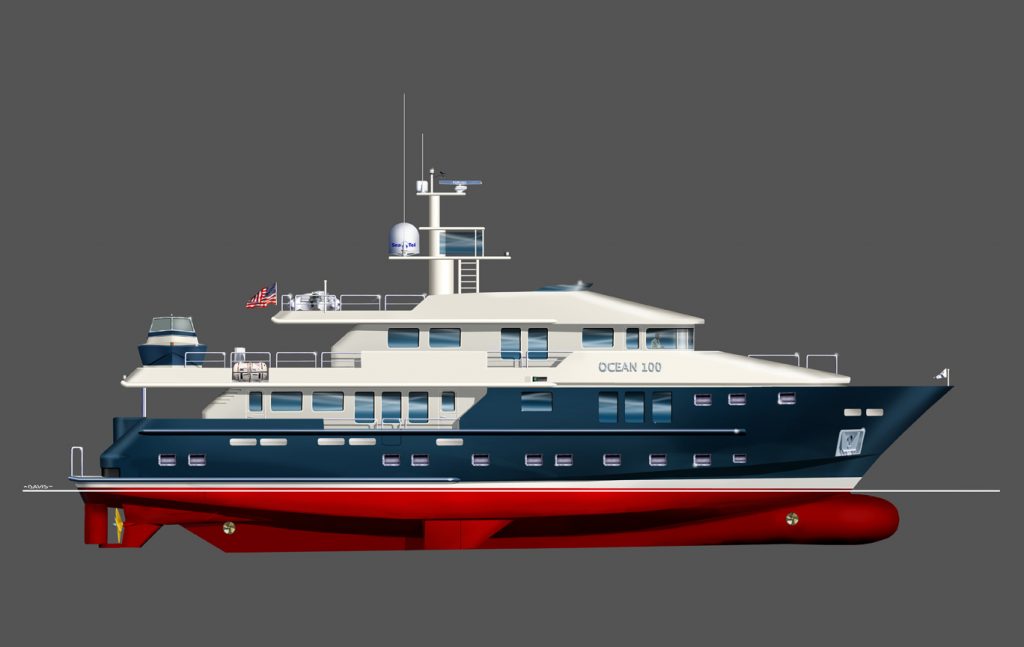 100′ OCEAN MOTORYACHT
L.O.A.
100′-0″
Draft
7′-0″
L.W.L.
89′-4″
Power
2 x 600 h.p.
Beam
26′-0″
Displacement
325,000 lbs.
100' Ocean Design Description
This super fuel efficient, semi-displacement hull form has been extensively tank tested to ensure superior seakeeping and powering characteristics. It is a conically projected double chined hull with wide spray knocker, flared bow, and integral swim step/transom stern. The hull is longitudinally framed for maximum strength and ease of construction.
Advanced technology appendages, including afixed bulbous bow, /active stabilizers, and a bi-foil under each propeller, are the features that make this vessel unique. In addition these features give the vessel superior seakeeping ability as will as having double the range of stability of other vessels.
This vessel has in excess of a Trans-Atlantic range at 10 knots cruise, as well as being capable of higher semi-displacement speeds for local cruising.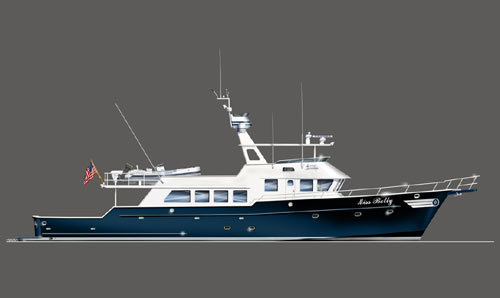 Ocean Sportfish 96

L.O.A.
95′-9″
Draft
6′-6″
L.W.L.
84′-6″
Power
2 x 300 h.p.
Beam
26′-0″
Displacement
330,000 lbs.
Ocean Sportfish Design Description
This steel 96′ long-range cruiser is our third project for this San Diego client. His previous two vessels were smaller versions of this serious ocean sportfisher.
Built as a serious offshore fishing platform, she has a 5,000-mile range at 9 knots and a top speed of 12 knots. This yacht has all the features that have become a standard of for long range offshore cruisers; heavy steel construction in excess of ABS requirements for Unrestricted Offshore Use, fixed/active stabilizers, model-tested fuel-efficient hull, full collision and watertight bulkheads, and twin screws in protected shaft skegs. Power is supplied by twin 385 hp diesels and electricity from twin 32 kw Northern Lights gensets.
Accommodations include a large owner's stateroom and three guest cabins plus crew quarters forward. The main deck features wide side decks and includes a spacious main salon, separate dinette, and galley, all made possible by the 26 foot beam. Forward and up 4 steps is the pilothouse with helmseat and settee, extensive electronics, and a convenient day head.
The large fishing cockpit is 15 ft. long overlooked by a 11 ft. Lanai deck for the observers. Fishing is the focus of this area of the yacht, with a large bait center located on deck and with freezer holds for the catch below deck.
This comfortable and practical yacht is designed to exceed our client's expectations for fishing and cruising performance.
Krystal Sea 90
L.O.A.
90′-0″
Draft
6′-6″
L.W.L.
77′-6″
Power
2 x 700 h.p.
Beam
24′-6″
Displacement
245,000 lbs.
Krystal Sea 90 Design Description
Krystal Sea is one of a series of beautiful Euro-styled offshore cruisers available from Bray Yacht Design And Research. These steel hulled semi-displacement motoryachts are ocean capable and are designed to meet the Owner's exacting requirements.
The featured tri-deck layout has two spacious guest staterooms on the lower deck, with the Owner's suite forward just three steps down from the main deck level. This spa-like Owner's retreat features his and hers bathrooms, showcasing beautiful artisan tile work around the Jacuzzi tub and rain spout shower. The spacious walk-in closet and smaller secondary closet along with the hand crafted wood dressers provide ample storage. The king-size bed ensures luxurious sleeping comfort. Features include a media center on the opposite bulkhead. Guests can expect to be pampered also, with the spa feel continuing throughout the full ensuite heads with roomy tiled showers, spacious hanging lockers, as well as queen-size captain-style berths.
The main salon is flooded with light from the large windows, and the generously sized couches and club chairs provide a comfortable and friendly entertaining space. The salon area is fully fitted with all the latest multi-media technology. A spacious C-shaped galley provides for gourmet cooking, served up in the formal dining space just forward of the main salon. For those who prefer alfresco dining, the banquette and large oval table provide an outdoor venue aft on the covered deck.
Up on the bridge deck is the spacious helm station with guest seating and a navigation and charting area, forward of the large sky lounge. Comfortable lounging and relaxation are the order of the day here in the sky lounge. The wet bar provides refreshments and just forward is the convenient day head. Out on the decks there is considerable lounge space both on the sunpads forward and the outdoor settee, and the aft hot tub provides a relaxing soak.
On the flybridge level is a more compact helm space, featuring a barbeque/bar area with large dinette, all under a solid hardtop. The aft end of the flybridge deck is fitted with controllable louvers to create shade or sun on the aft bridge deck.
The large stand-up engine room makes maintenance chores a breeze, with easy access to all sides of the two engines, and with the gensets mounted at counter height giving ease of access there too. Sight gauges and electrical panels are also situated for ease of viewing and servicing. CATV monitoring from the bridge adds to the many safety and security features. A spacious utility area forward provides a laundry room as well as storage and a mechanical space.
Even going ashore has been well thought out with the easy launch set-up from the dinghy garage built into the transom. The wide swim step gives easy access to both dinghy and docks, with a swing-out passarelle available for taller dockage facilities.
Interior and exterior details can be customized to suit your requirements.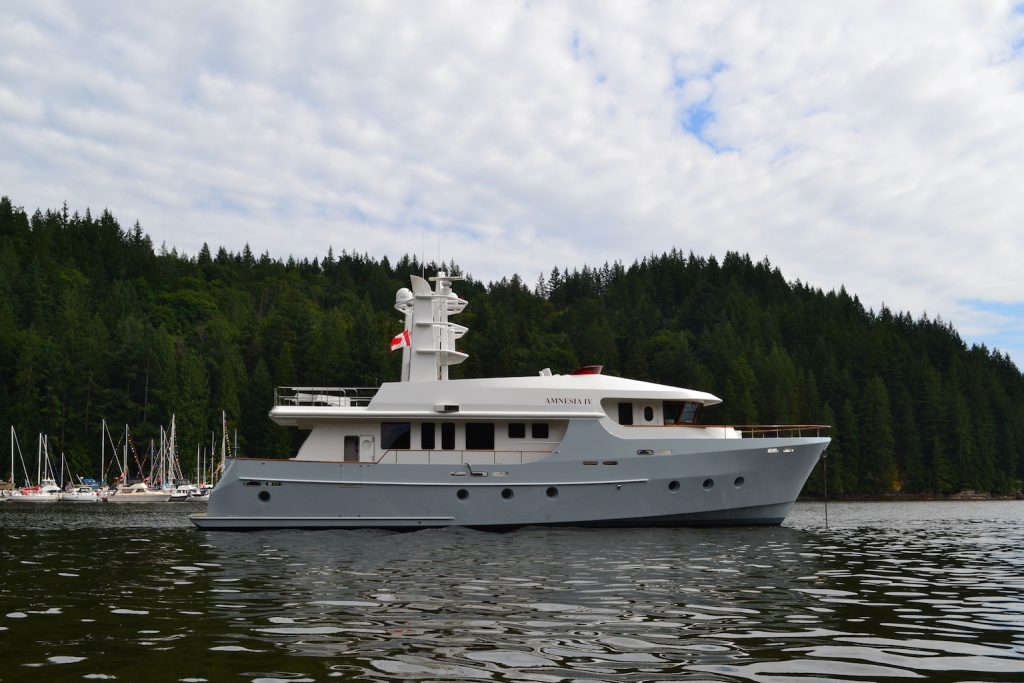 Cape Scott 85 Amnesia IV
L.O.A.
85′-0″
Draft
6′-0″
L.W.L.
76′-3″
Power
1300 h.p.
Beam
23′-0″
Displacement
180,000 lbs.
Amnesia 1V Design Description
This world cruising, trawler-style vessel utilizes state of the art fuel efficient design technology. Extensively model tested at the University of British Columbia, Canada, tank testing facility. This hull form is designed to perform exceptionally well in a seaway. She has exceeded tank test results in the actual open ocean, heavy weather cruising en-route to California, not long after the initial launch.
Built to ABS Class 1 fiberglass specifications, for unrestricted ocean use and extended offshore cruising. The hull form and bulbous bow are fourth-generation technology. The detailed model test results were used to optimize the proportions of the vessel and combine many years of commercial and pleasure craft design work. The vessel features a round bilge, full displacement hull form with fine entrance and flattened stern sections, incorporates a shallow draft positive flow propeller tunnel for protection.
The controllable pitch propeller maintains ultimate prop efficiency over a wide range of speeds, wind and wave induced loads. The CP also makes maneuvering Amnesia a breeze for one person, at any of the (4) control stations. The owner says he will demonstrate how anyone, can literally "inch" Amnesia into tight quarters, using the infinitely variable CP control, and the 2 side thrusters. This is because of her deadweight and how she sits in the water, which makes her easier to maneuver than his former 75′ twin-engine Symbol motor yacht.
The unique bulbous bow is designed to dampen pitching and increase fuel efficiency. The single 1300 hp MAN diesel with a large diameter 45″ (CP) controllable pitch propeller, provides optimum performance and fuel efficiency, making this vessel up to 30% more efficient than the average production built cruisers.
The owner was a die-hard twin-engine yacht owner for 45 yrs, until he experienced many years, without any propulsion problems on Amnesia. This is due to her sophisticated fuel storage, filtering, and delivery systems. 
Tank tested at a long-range cruise speed of 8 knots, it takes 108 hp to move this vessel along with a range of over 7,000 nautical miles. Top speed as designed and tank tested with the single 1300 hp MAN diesel, is 14.8 knots providing a range of 1700 nautical miles.
At 9 knots including the main generator, she burns approximately 7.8 gph.
Luxury and comfort for the owners and guests, this vessel is finished with a finely crafted Honduran mahogany interior.
As reported by author Capt. Bill Pike, in the 2003 Power & Motorboat Magazine boat test article. 
DESIGN PERFORMANCE TESTING: At the University of British Colombia tank testing facility.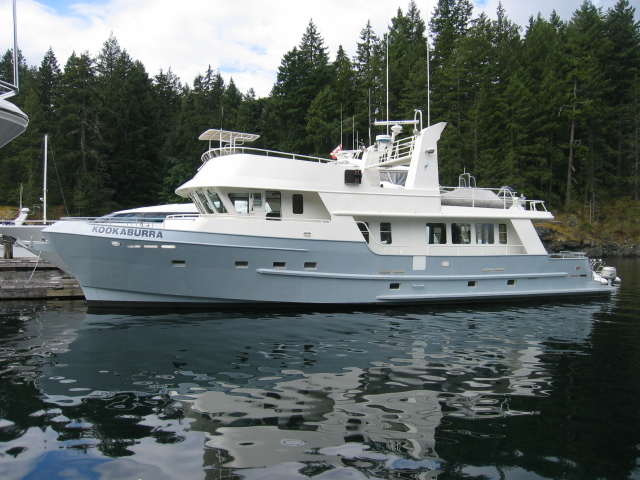 Ocean Trawler 76         "Kookaburra"
L.O.A.
76′-0″
Draft
6′-6″
L.W.L.
70′-0″
Power
2 x 330 h.p.
Beam
22′-0″
Displacement
180,000 lbs
Ocean Trawler 76 "Kookaburra" Design Details
This tough 76 foot steel cruiser is the second of the Working Yachts series, now under construction for a Vancouver, B.C. client. The first 76 was delivered last year after making an 8300 mile delivery trip through the Panama to its San Diego home port.

Each vessel is built to order on a standard hull form and machinery package. Both interior and superstructure layout are customized based on client input and requirements. The first vessel was specifically designed for serious fishing and included two refrigerated fish holds, a built-in live bait tank and room for a very large portable bait tank in the cockpit. Rod holders abound everywhere: in the cockpit and all along the boat deck aft rail.

The interior has been comfortably fitted out in teak, with a master stateroom, 2 guest staterooms, and a crew cabin forward, as well as a roomy main salon, galley and pilothouse. This second vessel has a master stateroom aft, large exercise room and two guest cabins forward. The main deck features wide side decks and includes a spacious main salon, separate dinette, and galley, all made possible by the 22 foot beam. Forward and up 4 steps is the pilothouse with helmseat and settee, extensive electronics, and a convenient day head. It has all the features that have become a standard of the Working Yachts line; heavy steel construction in excess of ABS requirements for Unrestricted Offshore Use, a bulbous bow, fixed or fixed/active stabilizers, model-tested fuel-efficient hull, full collision and watertight bulkheads, and twin screws in protected shaft skegs. Twin 330 hp John Deere engines produce a top speed of just over 12 knots with a long range cruise of 5000 miles at 9 knots. A Working Yacht 80 ft. Expedition and an 85 ft. Pilothouse version are also sold and are starting construction later this year. Working Yachts are available in a wide range of sizes direct from the architects.
Ocean Series 76           "Miss Betty II"
L.O.A.
76′-0″
Draft
5′-0″
L.W.L.
70′-0″
Power
2 x 315 h.p.
Beam
20′-0″
Displacement
180,000 lbs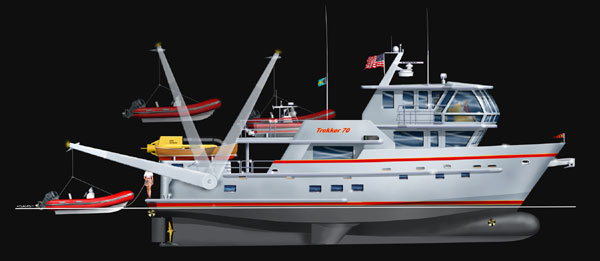 Trekker 70
 
L.O.A.
73′-0″
Draft
6′-3″
L.W.L.
63′-3″
Power
600 h.p.
Beam
22′-0″
Displacement
165,000 lbs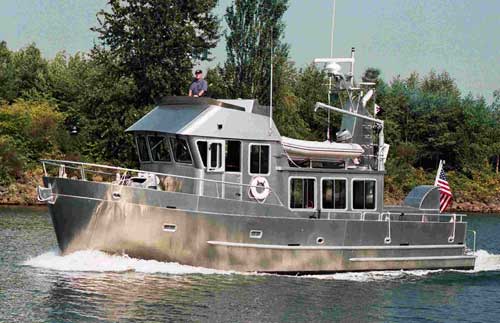 Northwind 50′
"Eventide"
L.O.A.
48′-9″
Draft
5′-3″
L.W.L.
46′-3″
Power
300 h.p.
Beam
15′-6″
Displacement
42,000 lbs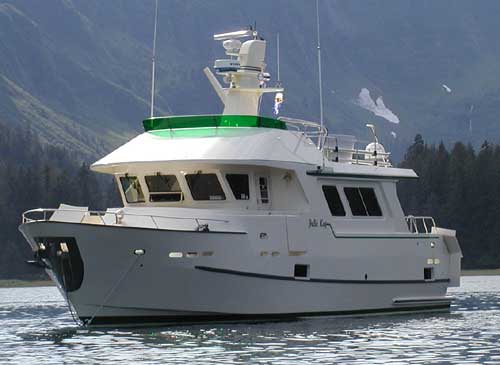 Latitude 49
"Julie Kay"
L.O.A.
48′-7″
Draft
5′-0″
L.W.L.
42′-4″
Power
300 h.p.
Beam
16′-0″
Displacement
55,000 lbs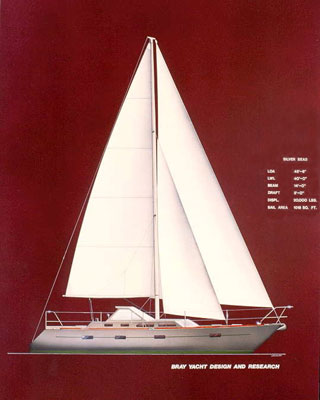 Silver Seas
L.O.A.
45′-6″
Draft
5′-0″
L.W.L.
40′-0″
Sail Area
1018 sq.ft.
Beam
14′-0″
Displacement
20,000 lbs.
Silver Seas Design Description
 Silver Seas is a very successful addition to our line of fast and able ocean cruisers. She is designed to be handled by a crew of two in comfort and safety without resorting to exotic materials or high tech building systems.
     Although Silver Seas approaches the weight of an ultra light displacement boat, she is not lightly built. Her aluminium hull and deck scantlings exceed those set out by The American Bureau of Shipping for Offshore Racing Yachts. The hull form has a short chine amidship above the waterline with rounded sections both fore and aft and a truncated, rounded underwater section. Not only is this form very fast through the water but it is fast and simple to build, reducing building costs. The twin spade rudders are heavily constructed and compliment the twin high aspect ratio keels fitted with lead ballast bulbs at the tip were their weight provides the maximum righting moment. There is 1″ of foam insulation on the hull sides and overhead for warmth and sound insulation but this also gives positive buoyancy, making the boat unsinkable. Watertight bulkheads are located at the bow and stern with addition bulkheads around the engine space to control flooding for the ultimate in safety.
     Light weight has not reduced the carrying capacity. The vessel is fitted with 180 US gallon of diesel, 190 US gallon of fresh water, and can easily carry 2000 pounds of stores without being overloaded. In addition a 150 gallon a day water maker is fitted. The 30 h.p. Yanmar diesel will easily move the boat at 6 knots cruise for a range in excess of 1000 miles. There is a large lazarette for storage of ropes, fenders, propane tanks, dive tanks, etc. Storage access is conveniently reached from the swim step which also accommodates easy boarding from the dinghy or from the water via the swim ladder.
     The Owner's cabin is aft and features a standard queen size mattress, seat, dresser, night table, and bureau. Access forward is through a port side walk through which contains the shop with freezer built in the forward end. The engine space is alongside under the cockpit with excellent access from each side and forward by the removal of cabinetry panels. The large W.C. is directly across on the starboard side. Up a step is the spacious U shaped galley to port and navigation station to starboard. This area is under the low forward cabin. The large ports are angled to project large amounts of light. The galley has dual sinks on the center island, the non-gimbaled propane stove forward, and work surface with appliance lockers to port. The fridge is build in at the after end. On the starboard side is a wet gear locker and navigation station with room for a computer and all the toys. Directly forward is the entertainment center. The settee/sea berth and dinette take up the forward end of the boat one step down. The large fore peak has plenty of storage space for lighter items. The large deck hatch makes access a breeze. It is matched by a glass hatch over the dinette for ventilation and escape. There are also vent hatches over the galley and navigation. station and a glass hatch over the aft berth.
     The deck layout is clean with wide decks. All halyards and sheets lead to sheet stoppers with all sails are handled from the cockpit. The shrouds are set inboard and there is a permanent jackline on deck for a safety harness. The jib is roller furling with a hanked on staysail on a removable inner stay.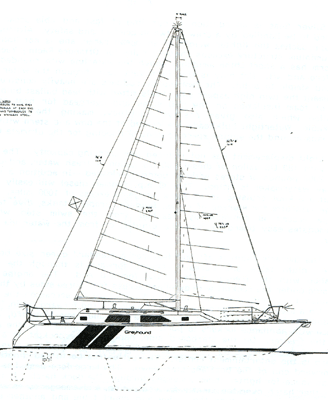 Greyhound
L.O.A.
42′-9″
Draft
6′-4″
L.W.L.
38′-4″
Sail Area
699 sq.ft.
Beam
14′-0″
Displacement
11,000 lbs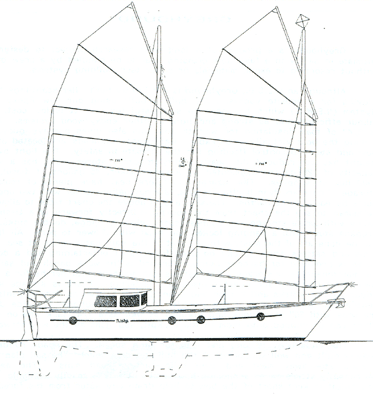 Aisha
L.O.A.
42′-3″
Draft
5′-0″
L.W.L.
37′-6″
Sail Area
1060 sq.ft.
Beam
13′-6″
Displacement
22,000 lbs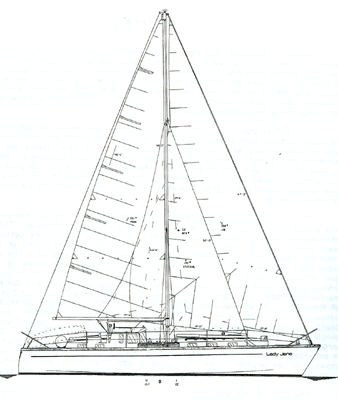 Lady Jane
L.O.A.
40′-0″
Draft
4′-6″ to 8′-6″
L.W.L.
37′-6″
Sail Area
854 sq.ft.
Beam
13′-0″
Displacement
12,400 lbs